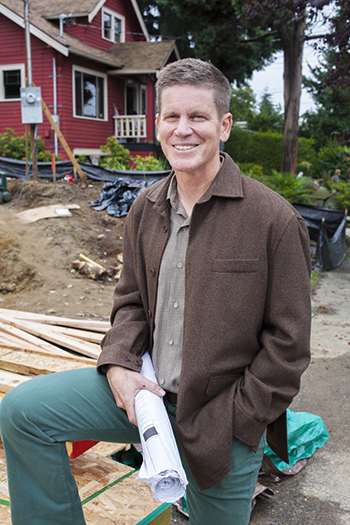 Thank you for your interest in eric denny architecture. I founded my firm in 1999 after completing a master's degree in architecture at the University of Washington and working for several prominent architecture firms in Seattle where I designed and managed complex projects and honed my professional skills.
The work of architecture is a creative process and the form that your project takes follows our imagination. This process can be exhilarating and also sometimes frustrating. I am an expert guide, however, and working together we can successfully make the walk toward getting your project built.
One of the things that I love most about architecture is that we get to turn ideas into concrete, wood, steel, color and space.
We will start with conversation and move to tracing paper and pen and then on to construction drawings, a permit and the hiring of a contractor. At the end of the journey you will have a space to enjoy and delight in.
Prior to becoming an architect I sought out diverse education and employment experiences. I received a bachelor's degree in psychology from the University of California, Santa Barbara; I've been a school counselor for developmentally challenged kids; and I was a beekeeper Peace Corps volunteer in Tunisia, North Africa for two years. These experiences prepared me for the work that I do now. Most importantly they taught me that people always come first. People need to be able to comfortably inhabit the places where they live, work and play and as your architect it is my responsibility to help make this happen.
I live, work and play in the Wallingford neighborhood of Seattle with my wife Anne and my twin sons Aidan and Alec.
My Sketchbook
Sketching is often merely a way to record, explore and understand the world in front of us such as a building, nature, or a work of art.  Sometimes, however, it is the crucible in which ideas are brought to life.  It is a way to create and test a new floor plan, understand the shape of a roof, or perhaps invent a new product.  For me sketching at its best is a process of discovery – it is a way to capture the essence of the something – of anything – and convey that vision to you the viewer.
Here are a few sketches selected from my books done over the years.
My passion
". . . designing something beautiful that the world didn't know it was missing."
~ Eric Denny