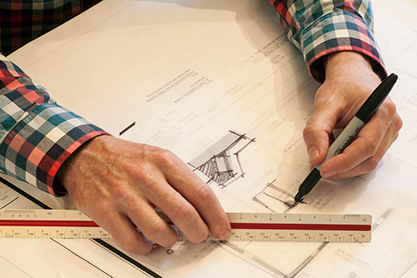 At eric denny architecture our goal is to provide you with outstanding service that is on budget and on time.  We want you to be thrilled with the services that you receive and delighted with the outcome of your project.
We combine strong design experience and capability with field tested cost estimating, thorough knowledge of municipal codes, efficient project scheduling and management, and the use of computer aided drafting technology to produce a superior product.
We are cost competitive with other Seattle residential architecture firms.  Ask me about my affordable rates for architectural services and together we can realize your project goals.
Three Steps to a Successful Project
Step #1 – Schematic Design – During this initial phase we work together to identify your vision for the project and we explore creative solutions.  We offer design ideas that will help you to better visualize design possibilities as well as the possible scope, direction and rough cost of your project.
We focus on active listening and we value your input.  We take a collaborative approach and I want to be sure that I have a clear understanding of your project goals and aesthetic preferences.  Our client-centered focus sets us apart from more conventional architectural firms.  Ask me about green architecture design.  If this is a priority for you, we can make it happen.
Step #2 – Project Development – Together we develop the direction that you have selected (from the Schematic Design phase) and this becomes the basis for construction drawings (what used to be called "blueprints") – the final written and graphic documents used to permit, bid, and build your project.  During this step I also secure the project permit, help you interview and select a contractor as well as negotiate a contract for construction services.
Step #3 – Construction Contract Administration – This is a very exciting time because your project gets built!  During this phase of your project I will be on-call to address questions and concerns that you and your contractor have.  I am also available to administer issues such as change orders and scheduled payments to your builder.